FAQ
Receive updates about AfreecaTV!
How to Stream with Screen Capture Mode (AOS)
2020-04-30
How to Stream with Screen Capture Mode (AOS Only)
With AfreecaTV app you can directly stream from your android devices.
Show us your mobile talents (such as TFT, hearthstone, drawing and photoshop).
Chat with your fans while sharing your mobile activities. AfreecaTV made LIVE stream easier than ever before.
(Screen capture mode is only available in Android)

*In order to use screen capture mode, please download our latest version of AfreecaTV App

1. Open the AfreecaTV App and login to stream on your phone
2. Once you are logged in to the APP, press the see more tab located at the bottom right corner.
3. Please select stream with screen capture.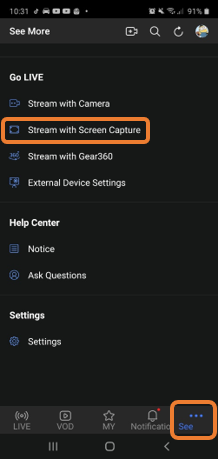 4. Enter the title for the stream and If you agree with the terms and policy
you will be automatically directed to your phone screen.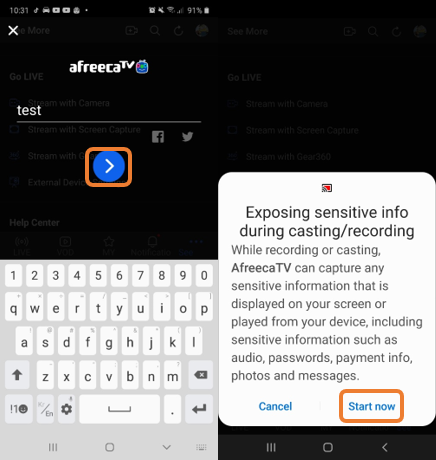 5. You can press start stream to begin your stream.
6. If you press the Arti bubble, you can change the settings for the stream.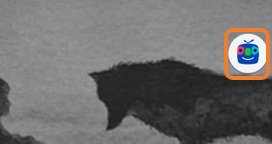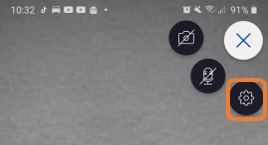 7. Press the gear icon to open the settings and you can locate End stream.
8. If you are not streaming, you will find go back to the app which will end the screen capture mode.
※ configuration
1) Camera : you can turn on/off your forward facing camera to show your face while streaming.
2) Mic: You can turn on/off your mic
3) Settings: you can change a variety of settings for the stream.