FAQ
Receive updates about AfreecaTV!
AfreecaTV Viewer Guide
2020-09-17
AfreecaTV Viewer Guide
Watching Live Stream
Part 1: Live Window Configuration
Part 2: Engaging Streamer (BJ)
Part 3: Live Chat
Welcome to AfreecaTV and thank you for visiting our platform. This guide is to help viewers who are not familiar with
our Live stream window layout.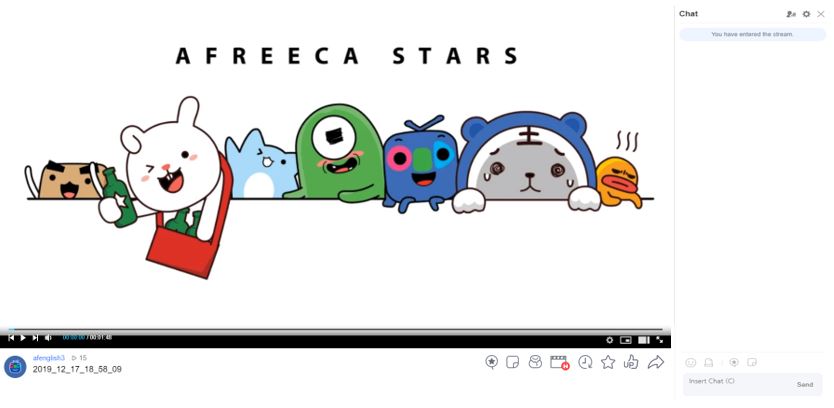 Part 1: Live Window Configuration
When you enter the Live stream/VOD, the first thing you want to do adjusting your setting. Depending on your internet and
computer setting, changing configuration will improve your live stream experience.
Starting with Quality of the Stream, please place your mouse to the bottom right corner of the Live stream/VOD window to find "Source".
Change source to Medium if you are experiencing connection issues or to have a smoother stream
(If you want to watch the stream with the highest resolution, please keep it in Source)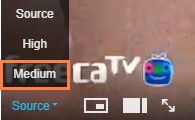 Now you have selected resolution for the stream, please select the screen mode. Right next to Source, you can select PIP or Cinema mode.
If you select PIP mode, you can browse other streamers without pausing the stream you were watching.
(To exit PIP mode, please click back to tab icon located at the bottom center of the PIP pop up screen)
And if you want to focus on the stream, please select the Cinema mode to make the stream window bigger.
(To exit Cinema mode, please click the exit icon located at the bottom right corner of the screen)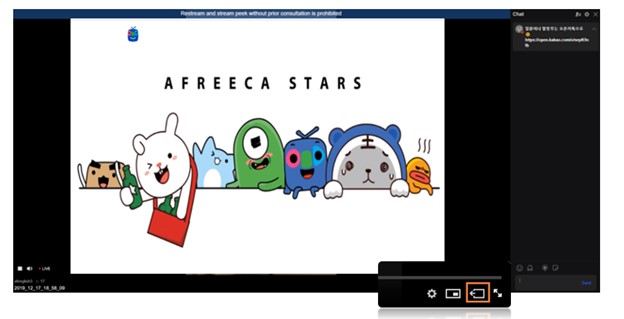 Part 2: Live Chat
Being able to communicate with streamers and viewers in real-time makes Live stream more fun and interesting.
By changing options on the chat bar, you can improve your Live experience even more.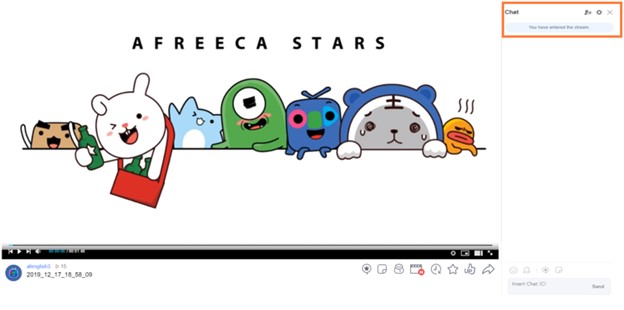 One of the most important features you may want to know from the Chat bar is Chat User List.
Click the Chat user icon and you can see all of the viewers and managers participating in the chat.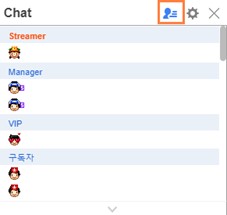 It is time to adjust the setting for Live Chat. Please press the Setting icon right next to the chat user list and make sure to turn on Translator.
One of the best options would be our default setting but you may turn off Emoticons and Fan color if you prefer a simpler chat screen.
(You can also open a separate window of chat if you use Pop-out chat)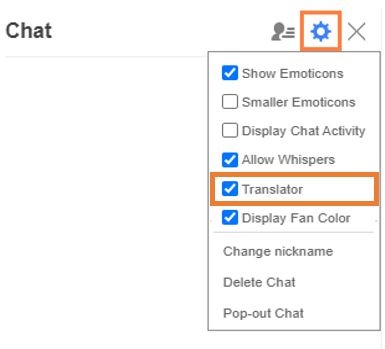 Now you are ready to engage with streamers and viewers. You can start to type in the chatbox to communicate with others while sending
emoticons using a smiley face located at the left top corner of the chatbox.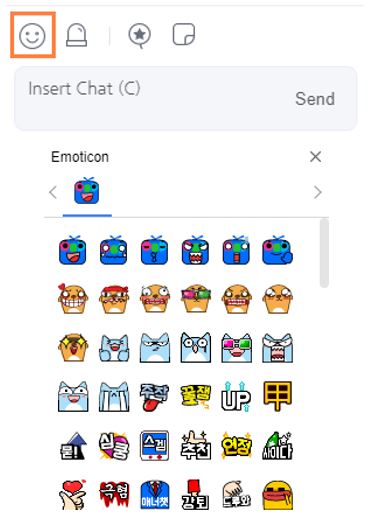 While you were engaging Live Chat, if you meet your friend or another streamer you used to watch, you can click their user name and send them a Whisper or Message to say Hello.
If you send a Whisper, the user will receive a highlighted private message on the chat bar and if you click Message,
you will able to send a direct message to their message box.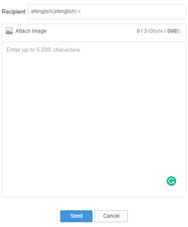 While enjoying Live stream it is very important to Report streamer/viewers who violate AfreecaTV's terms and policy. If you see anyone violating terms and policies, please take a screenshot and click on the siren icon located at Chatbox.
               Once you press the report, please select the category, and file a report.
(Please click here to learn how to file a report)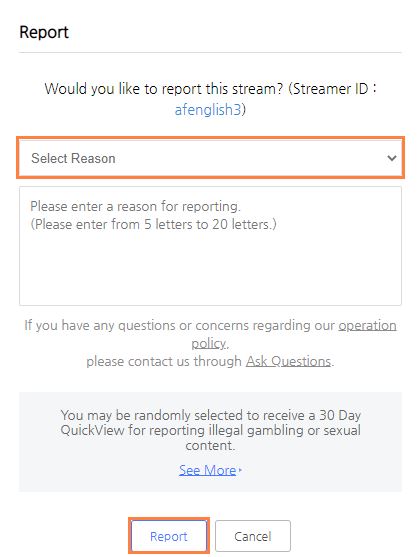 Part 3: Engaging Streamers (BJ)
You have browsed AfreecaTV and found some of the streamers/contents you like. Now let's try to engage and connect with Streamers.
The first thing you want to do when you want to save/follow the streamer would be adding the streamer to your favorite list
or to watch later list. Once you add the streamer to the Favorite, you will get noticed when the streamer starts the Live stream.  
(Please click here to learn more about favorite).

If you add a stream to Watch later, you can find the Stream/VOD from watch later list (if the streamer deletes the VOD, you may not be able to watch) locate at VOD History
Now, you have favorite streamers, and one day, you were watching Live stream as usual. But then, all of sudden,
you witness the epic moment of your favorite streamer. Pressing Showcase will leave a time stamp on the VOD.
This feature will be helpful for a streamer to edit videos in the future since popular scenes will have more showcase stamps.

But if you don't want to wait for the streamer to edit the Video, use the User clip feature.
User clip features allow the user to make short video clips (up to 3 min) and share with others.
You have been watching your favorite streamers for a while and have made few friends among the viewers.
If you want to support your streamers or even want to contribute to the viewers community,
the best way is to contribute is by donating star balloons or stickers.
Star balloon is Afreeca TV's currency which can be cashed out and Sticker is an item that helps streamers to buy various
functions for their streams such as increasing the maximum capacity for the stream or maximum numbers of managers
they can assign. 
(Please click here to learn how to use star balloon).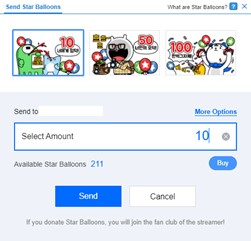 Although sending star balloons to streamer may be the easiest way to support the streamer,
you can still support your favorite streamer without paying for items nor star balloons.
You can always press Up for the Live/VOD for the streamer to get more notice from other viewers and
you can even use the share button to share on other social media.