FAQ
Receive updates about AfreecaTV!
What is "Stay logged" in?
2019-06-29
Do you want to be logged in automatically when you visit AfreecaTV?
Stay logged in is a convenient way to keep you logged in, so that you can use AfreecaTV without having to enter your ID and password every time.
[How to use]
If you check Stay logged in when you log in, youll stay logged in until you log out directly or your browsers cookie is deleted.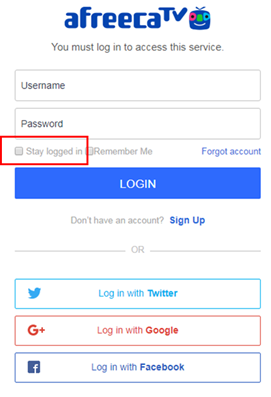 [Cautions]
- Please use only on trusted devices (PC and mobile) to protect your privacy.
- If you do not have AfreecaTV activity for 30 days, your logged in status will change.
- Stay logged in service is unavailable when used with some browsers private mode(such as Chromes incognito mode).
[How to disable "Stay logged in"]
1. If you manually log out, you can disable Stay logged in.
2. If you click Disconnect in Personal Information> Log in Info> Manage connected devices, you can log out on the device you want