Notice
Receive updates about AfreecaTV!
Mobile Live Menu Update
2022-08-31
Dear AfreecaTV Users,
We are removing a few options from the upcoming v6.18.0 mobile update 
to optimize the viewing experience.
[AOS/iOS]
- Aspect Ratio
Live Player > Option>Aspect Ratio
To optimize viewer experience, the aspect ratio will be fixed to streamer's 
original broadcasting ratio.
- Mobile horizontal list
If the device's rotation function is on, the Main page (Live/VOD list) will rotate 
automatically along with the device. We believe the horizontal mode makes users 
difficult to navigate through the main page and we decided to fix the main page list 
vertical regardless of the device's potion. 
The rotation function will be unchanged for devices with large screens (tablet devices).
[AOS]
- Favorite List
Live>Option>Favorite
To optimize the option menu, we decided to remove the Favorite List from the Live option.
(Favorite still can be found on "MY" page).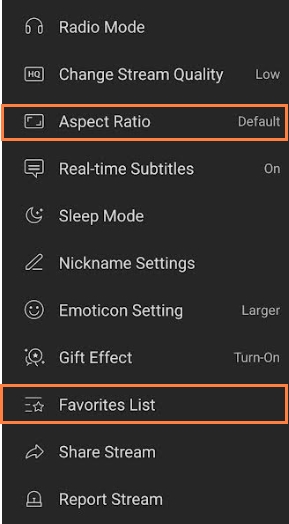 - Favorite menu is only for Android devices and it will be removed on v6.18.0
Thank you,
AfreecaTV