Notice
Receive updates about AfreecaTV!
[U2U] Information & Registration
2023-04-19
UP TO YOU Season 2: Global KPOP IDOL Audition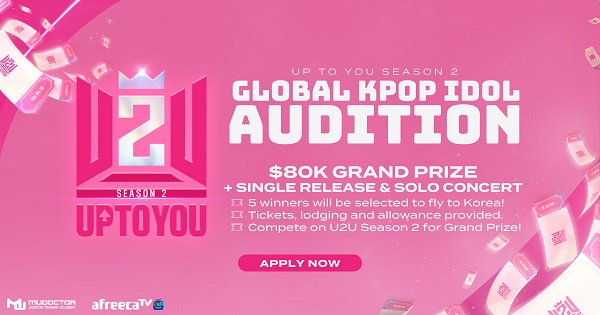 UP TO YOU is back with Season 2, and the search goes Global this time!
If you have the skills, we have the stage.
We are selecting up to 5 participants to fly to South Korea (for free!) and join the competition.
With an $80,000 grand prize, single release, and solo concert on the line,
its all up to you. Join the UP TO YOU audition today and be the five.
Sign Up Period: April 17, 2023 ~ May 7, 2023
How To Enter?
1. Create an account on AfreecaTV and livestream OR upload your submission!*
2. After you have completed your entry, you can officially register for UP2U Season 2 here . 
3. Submissions will be reviewed. In the mean time, join our Discord for updates & events!
*You may sing & dance to a song of your choosing!
Important Links:
- To Livestream / To Upload a VOD
Schedule (May be subject to change)